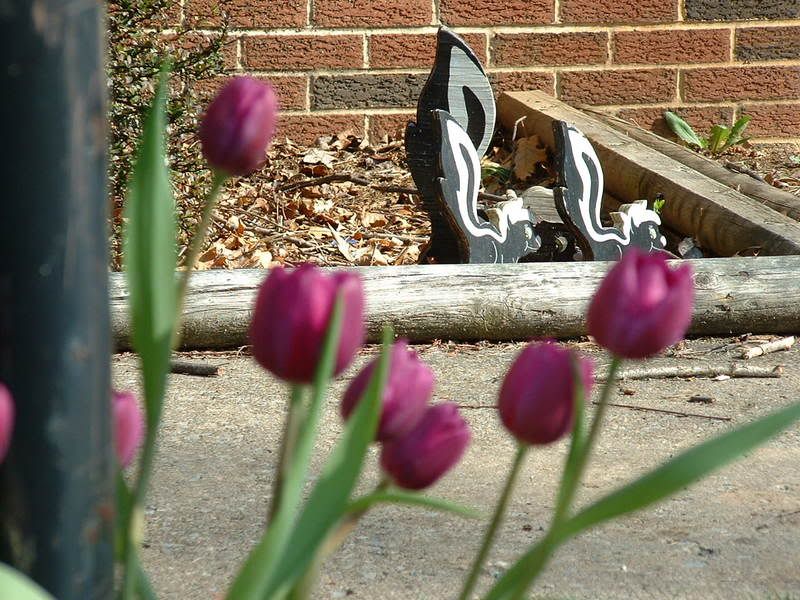 I just planted these tulips the other day and I have the skunks out front.
I accepted the "Interview Challenge" from Chad. If you want to see his set of questions and answers go to:
http://chadoneil.blogspot.com/
If you'd like to keep the Interview Challenge going and want to be interviewed, just write
"Interview Me"
in your reply. Then I will give you a new set of questions to answer. You will then post on your blog your answers to my questions. The fun continues when you offer to interview one or more of your readers in your post. If they wish, then they will keep it going.
1. If you could spend a day with any living celebrity, who would it be and why?
I would say, Anderson Cooper. He may not be a celebrity per say, but I think he'd have really interesting true life stories to tell.
2. If you could spend a day with any living music celebrity, who would it be and why?
Dolly Pardon. I just think she'd be alot of fun. I mostly like top 40's, rock, some hip hop and faster country. But, she seems like she knows how to have fun.
3. What place have you visited that has effected you the most and why? Arizona. I love AZ. Wanted to go ever since I was a kid and finally got to go with my husband on our honeymoon years ago. When I left I felt like I had just lost my best friend.
4. Who's the closest friend you ever had in your life thus far? Michelle. I lost my best friend about a year after graduation. Her husband killed her and then himself. We knew how to keep each others secrets and we're there for each other. I miss her.
5. How did you get into Blogging? I got into blogging from a group of ladies from a scrapbook message board. If you want to check it out, go to
www.scrapbookaddict.com
If you need an answer to anything, even non-scrapbook stuff they will have one.
6. Are you an athlete? If so, what sport do you play or have played? Not an athlete. I like to watch hockey though.
7. Favorite movie and why? "As Good As It Gets" I can watch this movie over and over and have. It's just funny and seems like a good family movie. My newest favorite love story would be: "The Lake House".
8. Favorite song and why? Mariah Carey's song.. "Dream Lover". It was a song I lipsinked to and did a dance for my husband with my bridesmaids pretending they were my backup singers and dancers at our wedding reception. I wanted to surprise my husband with something, and yes, he was surprised.
9. Most romantic date you've ever been on? Maybe not the most romantic, but I would say with my husband when we first meant. It was fun just getting to know each other.
10. What is your favorite car that you have owned? I used to own a red mustang when I was in my teens. I loved it.
Thanks Chad. Interesting questions. Now if anyone else wants to be interviewed, just let me know in one of your replys and I will think up some new questions.