"Freedom is Not Free"
These are my family members who has served in the military.
Here's my dad who served in the 131st National Guard Transportation Co. He drove supplies to the front lines and was in charge of a squad and ended as Corporal. He served in the Korean War from 1949-1952 Earned 3 Bronze stars.
My son was in the Marines. He has his thumb up on this photo because he just bought his new puppy at the time. He got out of the service a little over a year ago. When he got out he was Lance Corporal.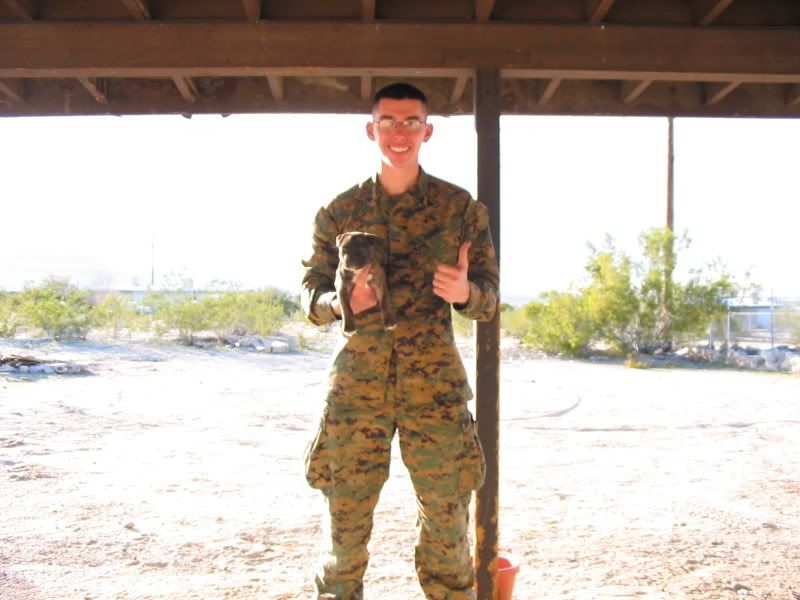 I don't have a photo of my husband when he was in the service unless I'd scan it in and I don't have a scanner. He was in the Army and served with the military police. He served in the military from 1985- 1988. Served one year in Korea.
To all the military branches and the families who has had military members in the service or does now. Our family salutes you.
A Poem from another site...
by Autumn Parker
I am a small and precious child,my dads been sent to fight..
The only place I'll see his face,is in my dreams at night.
He will be gone too many days for my young mind to keep track.
I may be sad,but I am proud. My daddys got your back..
I am a caring mother. My son has gone to war..
My mind is filled with worries that I have never known before.
Everyday I try to keep my thoughts from turning black.
I may be scared,but I am proud..My son has got your back..
I am a strong and loving wife,with a husband soon to go.
There are times I'm terrified in a way most never know.
I bite my lip,and force a smile as I watch my husband pack..
My heart may break,but I am proud..My husbands got your back..
I am a soldier..Serving Proudly,standing tall.
I fight for freedom,yours and mine by answering this call.
I do my job while knowing,the thanks it sometimes lacks.
Say a prayer that I'll come home. It's me whose got your back.
------
I have also posted some reenactment Memorial Day photos from Boalsburg here at my other blog site:
http://lv2scpbk.blogspot.com